Video: María Cristina Estévez.Museum of Geometric and MADI Art
Five in Motion | 3rd Edition | Art Nouveau Gallery | Miami Fl | USA | 20 21
Five in Motion | Museum of Geométricas & MADI Art | Dallas Tx | USA | 2020
Delsy Rubio | Limited Editión | Juggling | Carnival Spring | Diimensions: 18.5" x 18.5" X 2.7" each |Technique: Acrylic Paint / wood |Year 2018
Spring Carnival is a unique artwork, a four-piece polyptych of variable installation. As a whole, it becomes an open design, so that it can be installed according to the viewer´s feelings, functioning as a cluster in search of new relationships and combinations. Presently, it is exhibited in the form of a triptych to represent the idea of absence, the importance of accepting that everything happens for a reason. Life is a cycle, everything ends where it begins. Each year, Spring reminds us: no matter how bright the sun shins, how many leaves fall or how cold we feel, in due course everything flourishes, even a country.
Complex Simplicity | Arte Collective | Desing Center Of The America DCOTA | Dania Beach Fl, USA | 2020
Five in motion | Art Nouveau Gallery | Miami Fl | USA | 2018
Annual collective exhibition | Art Nouveau Gallery. |Maracaibo | Venezuela | 2018
1987 Art Nouveau Gallery. |Maracaibo | Venezuela | 2017
Hispanic Heritage Doral Art Exhibit | Doral Goverment Center | Doral Fl, USA | 2017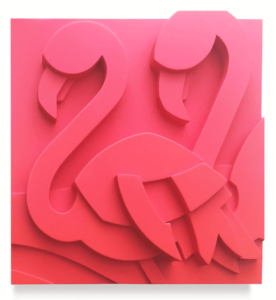 Delsy Rubio | Flamingos | Dimensios: 25" x 25". Technique Acrylic / Mdf | Year 2014
5th Imaginary Edition 2016 | In the forest of joy.
Delsy Rubio | Opposite Attracted |Year 2017